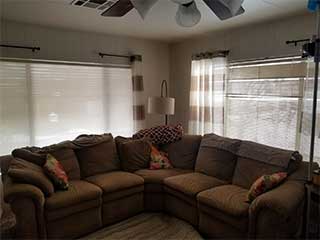 Venetian window treatments are among the most often used types of blinds in the San Francisco bay area and the world in general. And it's because of their light weight, easy framing, and low costs they've become so popular. If you're thinking about Venetian Blinds for local Mountain View windows, we can custom build the perfect set for your budget and needs! Our made-to-order Venetian blinds can fit all types of windows, and you can get them delivered and installed too as part of one affordable package.
All About Venetian Blinds
Most types of blinds are very rigid and bound inside of a fixed or sliding frame. Venetian blinds are frameless and hang in place on a set of cords. When you draw them open, the panels collapse onto each other to form a tight stack at the top of the window. When closed, they drop down and fan out to cover the entire windowpane. Most Venetian blinds these days have a panel rotation feature as well. Use one cord or button to raise and lower the blinds, and another to turn the panels in place and let in filtered sunlight. Mountain View and other parts of the bay area boast Venetian blinds on all sorts of residential and commercial windows. These tried-and-true window treatments have proven time and again their classic appeal.
Best Custom Venetian Blinds In Mountain View
Our main claim to fame is our flexible customer tailoring process. West Coast Motorized Shades Experts believes in letting you control the design process, and our interior design consultants will make sure you have all the information that requires! Some elegant wooden Venetian blinds might be the best option for a stately dining room window. If you want lighter blinds for a living or reading room, we can give you some options with appropriate weight and coloration. Most of all, you'll need to decide how heavy and protective you want your new Venetian blinds to be. Ask all the questions you want, and we'll help you find the best and most affordable answers.
Different Colors And Styles
Light gray or white Venetian blinds are both typical options, but there are others as well. Glossy black, decorative pastels, or any shade that complements the wallpaper and carpeting are all available. For extra protection from the sunlight, you can double your blinds up with some curtains or roller shades. The most thorough covering of all, though, comes from blackout Venetian blinds. This style is made from totally light-proof material, and when you rotate the panels shut there's no space between them at all.
Choose The Materials For Your Venetian Blinds
We have a variety of materials for blinds panels, and they each have their own benefits. If you want some eye-catching coloration, vinyl is the easiest to color, and the paint will last the longest. Faux-wood Venetian blinds give you the same aesthetic benefits as the genuine article, with greater endurance and much lower cost. Aluminum blinds, while more fragile in general, stand up the best to moisture.
Expertly Motorized Venetian Blinds
One major drawback of regular Venetian blinds is their reliance on hanging strings or cords. These strings often get tangled up, and more seriously they can be dangerous for pets and small children. You can solve this problem, and also make life more relaxing and convenient, by choosing our motorized window treatments. Motorized Venetian blinds have the same range of motion as the classic type, but it's all at the press of a button. By using Somfy and Lutron blinds controls, motors, and sensors, we can make your motorized Venetian blinds connect to your phone, tablet, or smart home system. With Wi-FI and Bluetooth remote control options, you can adjust the vanes and lower or raise your electric Venetian blinds without even setting foot in the room.
Mountain View Venetian Blinds Makers & Installers
Get a free estimate for your new Venetian blinds, courtesy of our friendly experts here at West Coast Motorized Shades Experts. Call us to schedule the consultation appointment and we'll send an interior design specialist over to go through all the options. From choosing faux wood or metal to picking colors and motorized features, your new Venetian blinds will work and look great from day one!