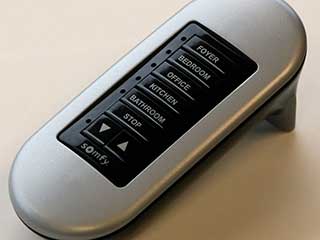 The biggest name in the game for automatic window treatments, Somfy offers inexpensive, high-tech blinds, shades, and shutters. Using the latest in smart controls and home network technology, these inexpensive window coverings offer a quality of life improvement as well as aesthetic beauty. Our Mountain View team can install custom Somfy blinds and shades to your exact specifications. If you want some help deciding on a look or style, we also provide expert consultation absolutely free! Whether you're looking for heavy-duty window shutters or some gauzy solar shades, Somfy has the solution for you.
Motorized Blinds & Shades For Windows And Skylights
Every room calls for its own style of window treatment. It depends on the room's decoration scheme, its location, and its function. Blackout shades are best for sleeping areas, or rooms with a lot of delicates facing strong sunlight. If you'd rather enjoy some filtered sunlight even with the shades closed, go with our semi-translucent solar shades or Venetian blinds. If you want something extra stylish, consider some pleated Roman shades made from cotton, velvet, or blackout fabric; it's all your choice! We size our motorized blinds and shades for windows, glass doors, and skylights, and include remote control, WiFi connectivity, and even smart sensors. If you'd like to protect your windows from dust and moisture from the outside, Somfy's external blinds are just as customizable and affordable as the rest!
Secure Your Glass Walls With Rolling Shutters
For storefronts, offices, and residential living rooms with wall-sized windows, you need full coverage that offers security as well as shading. Somfy rolling shutters are strong, opaque, and highly space-efficient. Mount them on the inside or the outside of your Mountain View wall window or storefront as you prefer. They're tough, lightweight, and come in whatever size and shape you need!
Motorized Shading For Outdoor Spaces
Patios, pergolas, and decks need their sunlight protection too! Somfy's motorized awnings and canopies utilize the same smart controls, silent operators, and customizable looks and styles as their window treatments. During your free, no-obligation consultation appointment, our designers will help you plan the best style, structure, and angles to cover the space. Geometry is just part of our job! Pergola canopies, patio shades, and freestanding shades are all on the menu.
Custom Somfy Blinds For Your Mountain View Building
Enjoy a wide variety of designs and materials, and customize the Somfy shading solutions your property needs. Set up a free consultation to talk with our Mountain View motorized blinds specialists and decide if what Somfy shading solutions work for you. Arrange the free estimate appointment anytime by calling or scheduling online!