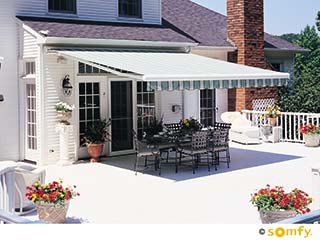 Outdoor covers make patios, balconies, and courtyards into better assets for your property. More than just keeping the sun out of your eyes, patio covers open a ton of new possibilities for using outdoor spaces. Patio covers let you leave furniture outside without risk of sun or water damage. They add to the aesthetics and atmosphere of your porch or balcony. Finally, if you choose motorized patio covers, they give you fast and effortless home management tools that improve comfort and security alike. It's up to you to make the design choices for your Mountain View patio covers, but our expert consultants will be happy to help! With our in-depth knowledge and professional expertise, you can add outdoor shading solutions that emphasize design as well as functionality.
Why Motorized Patio Covers?
The bigger the space you plan to cover, the heavier the shades will have to be. Depending on your schedule and what you use your patio for, you might also need to adjust the covers more or less often. These are two examples of factors you should consider when choosing motorized patio covers or classic, hand-adjusted ones. Maintenance and power supply are also important considerations, as well as the obvious aesthetics. There are pros and cons to both! Motorized patio covers give your Mountain View backyard or front porch area easy remote control features to protect you against harsh sunlight and weather. With motorized patio shades, you can always find comfort even under the blazing sun.
Try Motorized Awnings
If the type of patio shades you want are large or heavy, battery-powered is probably the way to go. Similarly, motorized patio covers save a lot of trouble if you plan to put a lot of furniture out on the deck. Sunlight, dust, and rain can all do a number on cushioned chairs and couches. Motorized patio covers provide an easy way to protect them when the weather changes. Motorized awnings are also handy for commercial spaces like storefronts and outdoor seating where the weather can change during the workday. On a related note, motorized patio shades with internet control or master computers give you the benefit of not having to be around at all.
Sail Shades – A Compact Alternative
If you don't have space for a proper awning setup, sail shades let you literally cut corners. Sail shades might be simple, but they have their own aesthetic benefits as well as being form-fitting. They can also be surprisingly protective against sunlight and bad weather if you choose good materials and place the shades effectively. Add a couple of tent poles to a more open space, and you can even have a sail shades system that scales up. Adding sail shades to your Mountain View patio or pool deck can provide ample shading under open spaces. This makes for excellent choices to also add vibrant colors to the settings.
Freestanding Patio Shades and Pop-Up Canopies
Some decks and courtyards don't have any structural supports within reach at all. Here, you'll need freestanding patio shades. These come in pergola or pavilion-like designs, as pop-up canopy tents, or with their own central support structures. The latter is great if you want motorized patio shades with a freestanding structure, and can support rotating panels or roller tracks for the shades. You need to find the best choices for patio covers for your nearby Mountain View property to ensure you get the best bang for your buck. With patio shades, attached or freestanding, you have a variety of options extending past the simple designs. It's helpful to get expert consultation from local professionals to find the right choice for your needs.
Free Estimates From Mountain View Patio Shades and Covers Installers
Let the professionals help you design custom-made patio covers, motorized with smart Somfy controls and boasting the latest remote control features. Book an appointment with our expert consultants, and get free advice and recommendations for your custom outdoor shades along with a quote. Call anytime to get started with a free estimate appointment!