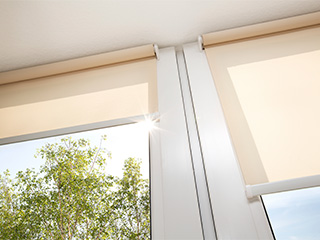 Many types of blinds offer different benefits when you get them installed. The main beauty of roller shades is customizability. You have a lot of options when it comes to design and special features. That's you can often find motorized roller shades in Mountain View homes and businesses. The relatively simplistic build makes for a lot of variations. Not only can roller shades complement spaces with their design, but they can also create more hospitable conditions.
Motorized Roller Shades For Mountain View Windows & Doors
Rather than needing to fiddle with strings throughout a room to try to get all of the window covers aligned, you can make it happen with the press of a button. Motorized roller shades allow you to use a smart Wi-Fi enabled device, remote control, or brightness sensors to let in more or less sunlight during the day. With custom made motorized roller shades, you can ensure no light gets through, and you don't even need to step into the room to do so. The range of automation features makes it easy to turn your smartphone or smart home system into the remote.
Sunlight Diffusing With Sheer Roller Coverings
Nobody needs to sacrifice having natural lighting in a room in order to keep their home cooler or avoid damage to their furniture. Sheer roller shades diffuse sunlight and let you illuminate any room without letting the area heat too much. Fluctuating indoor temperatures can cause wasted energy, but sheer roller shades will help reduce that issue. They also keep direct sunlight from bleaching furniture and harming them for good. This allows you to rest easier knowing your wallpaper, books, and other pieces of your property won't sustain damage from direct sunlight exposure.
Blackout Roller Shades For Your Bedroom
Sleep is an important thing for everyone in your household. It helps to keep everyone healthy, and working well. However, light from outside can cause a lot of trouble in allowing you and your family to rest properly. Whether you have a child bothered by a streetlamp outside or want to nap during the day, we've got a solution. Blackout roller shades will keep any outside light from coming in through the window or skylight. They'll help you get the rest that you deserve, even if it's high noon outside. Don't want black window covers? Don't worry! Our blackout roller shades come in various choices for colors and designs to suit any Mountain View residence or office space.
Custom Roller Shades Made For Your Needs
Every customer needs slightly different things, and West Coast Motorized Shades Experts happily helps them all find their perfect shading solutions. All our roller shades, which we manufacture in the USA, come with a free estimate before you order. That means you can consult with one of our local Mountain View blinds installers who'll measure each window and door you want to cover and show you samples of all the different options. From beautiful sheer window coverings to motorized exterior roller shades for patios, we've got an answer to every request. Call to schedule your free consultation anytime, or contact us using the online scheduling system on this website!