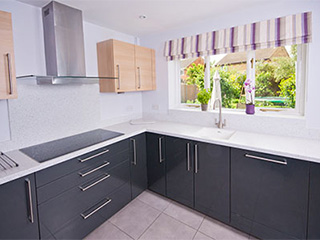 What are Roman shades, you might be wondering? In short, the most elegant and cozy-looking style of window coverings out there! Roman shades are defined by the stacked pleated shape you pull them into when drawing them open. The scallop-like ripples formed by the cloth are a big aesthetic step above simple roller shades or window blinds and low maintenance. With West Coast Motorized Shades Experts's custom-designed window treatment service, you can have your custom Roman shades installed anywhere in Mountain View or nearby!
Roman Shades For Any Mountain View Apartment Or House
Any window that's taller than it is wide is well suited to Roman shades. If you're choosing window coverings for bathroom windows, you might want to consider white nylon or other waterproof fabrics and textiles. Roman shades for bedrooms or living rooms, soothing colors and thick velvet or cotton is the classic choice. If you want Roman-style covers for kitchen windows or dining rooms, take the color scheme and lighting of the place into account. Roman shades are also a good choice for offices, lounges, and foyers.
Blackout Window Coverings
When choosing new window shades, it's important to consider all the features you might want. Going with blackout Roman shades for a Mountain View bedroom makes for an excellent choice. Blackout fabrics give you privacy and allow you to sleep uninterrupted even when it's fully sunny outside. Our selection of blackout Roman shades also works for skylights, as well as various other types of windows. Choosing room darkening shading products often provides the best solution for residential dormitories.
Roman Shades Fit Sliding Doors Perfectly!
Since they work best in tall, narrow spaces, Roman shades make for a great choice for glass doors as well as windows. The various pleated and relaxed designs can give the interior décor an elegant boost with simplicity. Installing Roman shades on French doors or balcony glass sliders adds another layer of sophistication, on top of protecting your privacy and indoor climate. We'll be happy to fit your sliding doors and patio entrances for a set of our custom Roman shades.
Relaxed Roman Shades, Magnetization, And More
There's plenty of variety under the Roman shades umbrella of design options. The variation of styles (hobbled, flat, banded, etc) gives you lots of room to play around. Relaxed Roman shades, for instance, are a particular style that hangs down in the middle of the window frame, creating a leaflike curve. With magnetic Roman shades, you'll have no need for cords or drawstrings. Instead, several pairs of magnets located along the window frame do the locking in place. Hand-raise the shades to the level you want, and they'll be drawn to the nearest pair of magnets and stuck in place until you move them again.
Roman Shades With Draperies
It's very common to see this Roman style of window shades paired with others. In fact, Roman shades with curtains on either side and some lacy valences overhead are a classic Victorian home décor centerpiece! You can also put Roman shades over a thinner, more translucent window treatment, like solar shades or thin rollers. This gives you more options when it comes to light and privacy while keeping the spectacular decorative qualities of these coverings. After all, Roman shades are famous for their beautiful style.
Motorized Roman Shades For Safety And Convenience
When it comes to child-safe and convenient cordless window covering options, magnetic Roman shades have both strengths and weaknesses. Their main drawbacks are the lack of fine control over how you want to adjust them and the fact that they aren't any easier to open or close. With our motorized Roman shades, you can solve both problems! In addition to remote control, you can set these smart shades to open and close at certain times. Add one of our high-tech sunlight or heat sensors, and you can even have it react to changing Mountain View weather all on its own!
Mountain View's Best Source For Roman Shades
Initial consultation with an expert from West Coast Motorized Shades Experts and estimates are completely free! With an in-person consult, we can show you our wide collection of designs and let you customize the type of Roman shades you want for your Mountain View business or home. Give us a call and we can get working on a special set of Roman window covers just for you!