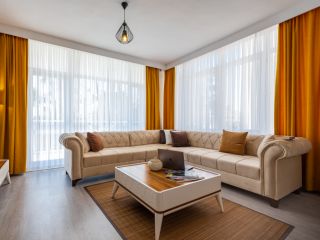 Are you seeking the perfect window treatment solution for your home or office in Mountain View and its surroundings? Look no further than West Coast Motorized Shades Experts, your premier destination for exquisite curtains and draperies. We provide a wide range of premium window treatment solutions and offer professional installation services. Our experts will guide you in selecting the ideal curtains or drapes to enhance your interior while also providing expert advice on how to choose the perfect window treatments to suit your unique space.
Why Choose Our Draperies and Curtains?
At West Coast Motorized Shades Experts, we take pride in offering top-quality curtains and draperies that are both functional and stylish. Here's why our curtains and draperies stand out among other window treatments:
Superior Versatility: Our collection includes a vast array of styles, fabrics, and colors to match any decor. From contemporary to traditional, we have the perfect solution for every taste and space.
Motorization Excellence: We specialize in motorized window treatments and work with industry-leading brands, such as Somfy and Lutron. Experience the convenience of automated curtains and draperies with our advanced technology.
Energy Efficiency: Curtains and draperies are excellent insulators, helping to maintain a comfortable temperature in your space. They can reduce your energy costs by preventing heat loss in the winter and minimizing heat gain during the summer.
Privacy and Light Control: Enjoy full control over the amount of light and privacy in your home. Curtains and draperies offer complete coverage, allowing you to adjust them as needed.
Sound Insulation: Our curtains and draperies not only enhance your interior aesthetics but also help reduce external noise, creating a peaceful environment in your home or office.
Free Consultation and Installation: We offer complimentary consultations to help you choose the right window treatments and provide professional installation to ensure a perfect fit and finish.
Expert Advice: Our experienced team is here to offer valuable insights on measuring for curtains, selecting the ideal curtain rod placement, and ensuring your curtains or drapes match your unique preferences and needs.
Window Treatment Solutions for Every Space
Whether you have a commercial or residential property, indoors or outdoors, we have the perfect curtains and draperies to enhance your space. Our custom drapes and curtains can be tailored to your specific requirements, ensuring a seamless integration with your decor.
Contact Us Today for Your Window Treatment Needs
Visit West Coast Motorized Shades Experts today and explore our extensive range of curtains and draperies. Our experts are ready to assist you in creating a comfortable and stylish atmosphere in your Mountain View space. We also offer a variety of other window treatments, including rolling curtains, blinds, curtain panels, Roman curtains, and more. Our professional team will help you make the right choice for your space.
Don't compromise on style, function, or convenience when it comes to your window treatments. Contact us today for a free consultation and installation. Elevate your space with West Coast Motorized Shades Experts' premium draperies and curtains.