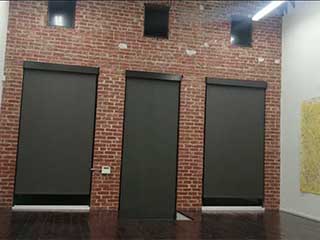 Do you have a room that needs protection from harsh sunlight and outside observers? If so, you'll want a set of blackout window treatments that can block everything out. Window blinds do the trick, but those are also bulky, ugly, and make the room claustrophobic and stuffy when closed. Blackout blinds are the perfect solution to this conundrum. If you want beautiful and affordable blackout window treatments custom made for your property in the Mountain View area, you've come to the right place.
What Makes A Set Of Blinds "Blackouts?"
Most window blinds have semi-translucent panels that some amount of light can penetrate. Either that or the vanes don't close tightly enough to completely block all slivers of sunlight from coming through. That little open space that light can get through between the vanes results in quite a bit of light and glare. Blackout blinds have neither of these things and cover the entire windowpane when sealed. There's a ton of room for variety within this label, and West Coast Motorized Shades Experts's design team can custom make pretty much any type.
What Types Of Blackout Blinds?
To ensure you get the best blackout blinds for each window, our team will look at the window that needs covering and explain the options. Size, structure, interior and exterior decoration schemes, and budget are all factors our consultation team will help you balance. Blackout blinds don't actually need to be black. You can get them in any color, with all sorts of lining, padding, and frames. You can even try out our motorized blackout blinds, for the latest in Wi-Fi remote-controlled and automated comfort. West Coast Motorized Shades Experts offers its services to all nearby areas and cities. So feel free to get in touch and arrange a free consultation whenever you want.
What Sort Of Rooms Use Blackout Window Treatments?
There are plenty of rooms around your Mountain View home that can benefit from the coverage these protective window treatments offer. Blackout blinds in bedrooms, living rooms, and even bathrooms and kitchens with the right materials, are all popular choices. Commercial spaces also need these features. Office blackout blinds will keep sunlight glare off of desks and monitors, and make a more comfortable and less distracting environment for workers and patrons alike.
Door & Skylight Blackout Blinds
You can get these dark covers made for more than windows. French doors with blackout blinds, or sliding glass doors with the same, are much easier on the adjoining rooms. With some well chosen colors and styles for the panels and frames, they can even look better than they did before as well! In addition, skylights and ceiling windows can become real liabilities during sunny days at noon, or when it's distractingly rainy and gloomy. Blackout blinds for skylights will let you keep your Mountain View property sheltered from nasty weather, but able to enjoy the upward view otherwise.
Mountain View Blackout Blinds Best Source
Finding something to cover the windows makes for a crucial addition to homes all over Southern California. The sunny conditions of our lovely state can prove difficult to handle when glare keeps bouncing off TV and computer screens. With blackout blinds custom made to fit your windows or other glass surfaces, you'll avoid that problem. You'll also get complete privacy when the blinds are closed. When it comes to watching movies and sleeping soundly, blackout blinds provide a worthwhile investment. As the local blinds makers and installers, West Coast Motorized Shades Experts loves helping folks from all nearby areas find the best shading solutions for their homes and office spaces.
Do You Give Free Estimates?
Absolutely! Call the team here at West Coast Motorized Shades Experts and schedule your free preliminary consultation appointment. When we've finished manufacturing the blackout blinds, shades, or curtains we've designed together, you can get them delivered and installed as a package deal! This includes remote control blinds. We offer timer and sensor features for all our motorized shading products. We believe that affordability, flexibility, and customer satisfaction serve as the key to a successful business. See our blackout blinds collection and available customizations by booking a free estimate appointment today!