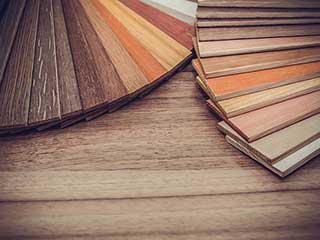 Any Mountain View home or workplace can look better with faux wood blinds. It's so easy to upgrade the look of your property with our amazing imitation wood blinds, and it doesn't cost a lot either. We offer total customization from the ground up, with an enormous array of options to choose from. Our unique design service guarantees the perfect wood grain texture blinds for your office or residence. To ensure you get the right window coverings, West Coast Motorized Shades Experts offers in-person consultations at any address in the local bay area region. There's never any obligation to make a purchase, so there's nothing to lose. Find out more about the gorgeous custom faux wood window treatments we provide. And remember, all our products are custom made in America!
Motorized Faux Wood Blinds With Wi-Fi
A great place to start with your custom faux wood window treatments is by considering motorized blinds systems. These are easy to install and can be fitted to almost any window. Our motorized faux wood window blinds are attractive and versatile and provide many different control options. For instance, you might decide to choose wireless units for your kitchen or bathroom, eliminating the need for trailing wires. These are also ideal for hard-to-reach office windows. Large windows may benefit from wired motorized faux wood blinds, which can handle heavier loads. Whatever system suits you best, West Coast Motorized Shades Experts can help you find faux wooden window treatments that offer décor as well as simple operation. With Wi-Fi blinds setups, you can turn your phone into the remote!
Cheapest Faux Wooden Blinds For Mountain View Windows
We let you take control of the entire customization process for your new faux wood blinds. You can start by deciding on the width of the vanes, then finding a color that suits you from our wide palette of different options. This means you're nearly guaranteed to find a shade to match your property's existing décor scheme. In addition to this, you can also choose from advanced options such as tape, which lends a further element of choice to the faux wood blinds for your Mountain View residence or office. With our consistently low prices, you'll find it's incredibly straightforward to create faux wood window treatments that perfectly suit any part of your property. And all at affordable prices that won't break the bank.
Blackout Imitation Wood Window Blinds
To ensure that light can't pass through a window, we offer a specialized range of products. These faux wood blinds feature overlapping vanes that totally block light, and our opaque PVC or vinyl blinds don't allow any light to pass through. Blackout faux wood blinds cut out all light, which allows you to keep a room in darkness whenever you need to. That's perfect for when the kids need a nap, or when you've been working nights. It's also ideal for preventing people from looking into your property, and many Mountain View homes and businesses feature these blackout faux wood blinds in order to guarantee privacy. The best way to keep sunlight out of bedrooms, blackout window treatments make for one of the most popular options. When you get them custom made to the window size, you can ensure zero sleep interference from the sun.
Local Faux Wood Blinds Source
West Coast Motorized Shades Experts is the specialist provider of faux wood window blinds around this section of the SF bay area. If you're searching for a cheap and easy way to upgrade your property, then we have the answer. To get started, contact our team and arrange an in-person consultation at your address. Our representatives will come to you and provide samples, advice, and free quotes on all custom blinds and shades. Choose the designs you want, the motorized blinds features, and more. Then, a short while later, your new blinds will arrive with professional installers to set them up.