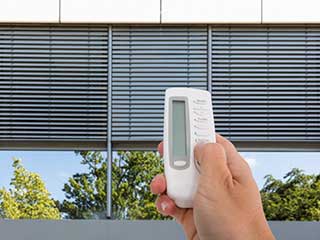 Want to make Mountain View home and workplace management more convenient and less stressful? If so, motorized window coverings are a good place to start. Using accessories from manufacturers like Lutron and Somfy, we can make your perfect sets of custom motorized blinds. Read on to learn about the options. The West Coast Motorized Shades Experts team can design some affordable, high-quality remote control blinds just for your local home or business!
Motorized Blackout Blinds
Some window coverings are meant to let in filtered or partial sunlight. Motorized blackout blinds can do that while the panels are rotated open, but no sunlight gets in at all when they're closed! Blackout blinds with remote controls or reactive sensors are very protective. Nothing prevents ultraviolet damage to wallpaper and furniture like them. If you want motorized window treatments for bedrooms, blackouts are a shoo-in. They give you the best sleeping environment and privacy. West Coast Motorized Shades Experts can set you up with wooden, metal, or vinyl sets of motorized blackout blinds, among others.
Motorized Venetian Blinds
If space is at a premium, this type of motorized blinds will let you conserve more of it. Because of their thin panels and flexible connections, motorized Venetian blinds fit into shallow window frames without hanging out. They also have a professional aesthetic, perfect for office and workplace environments. A large office suite or similar with some of our centrally controlled Somfy Venetian blinds is easy to manage without getting in the way of work.
Electric Roller Shades
Flexible roller shades are even thinner than Venetian blinds, and you can choose transparent or opaque materials. With motorized roller shades like our Lutron selection, you can get that effect with remote-controlled convenience. Choose blackout fabric, solar shade material, or insulating cellular sheets for your set. These are some of the most diverse motorized window treatments around, so don't hesitate to ask questions when choosing the details for your set!
Motorized Vertical Blinds
Most windows are tall rectangles, and so most motorized blinds are made of short vanes that extend across them, left to right. For long windows, glass doors, and other lengthy apertures, you'll need motorized vertical blinds or curtains. Without remote control, vertical blinds can be a bit of a chore to adjust. Motorized vertical blinds, however, are as simple as any other type of electrical window treatment.
Remote Control Blinds And Sensor Features
One of the advantages of motorized blinds with remote control capability? You can sync them to more than just handsets. Google Home, Alexa, and other home or smartphone-based apps are compatible with most of the Lutron and Somfy smart products we provide. Our installation services include setup and programming for all such features.
Mountain View Motorized Blinds For Windows
Our motorized blinds are as affordable as they've ever been, but we still do everything we can to ensure customer satisfaction. That includes free estimates before any purchases! At West Coast Motorized Shades Experts, we believe in helping you make informed decisions. Including you in the design process of your new motorized window treatments is part of that. You can order your new motorized blinds for any address in Mountain View or nearby parts of the SF bay area. Schedule a free estimate to get starting on customizing your new set of motorized window treatments today!